About paper cups
Paper cups are convinient and cost-effecetive way of carrying and drinking liquids suach as hot/cold drinks.
Here are some of the sasic advantages of custom printed heat insulated of printed insulated paper cups:
1. Customized paper cups get your company noticed. Offer your clients hot or cold beverages in custom printed paper cups with your own logo, image, or advertisement. Customers will have your company in mind long after the event is over and will surely remember your hospitality and great service.
2. Paper cups do not require any washing. Simply dispose them responsibly and this saves you time, money, and hassle of transporting your cutleries after the event.
3. Paper cups with logo or images allows you to reach a wider audience. Customers with your branded cups are able to carry your company name to different destinations. This will get your company noticed by someone new.
USES OF PAPER CUPS FOR PROFESSIONAL PURPOSES
FAST FOOD RESTAURANTS, CAFES, BARS
PUBLIC AND PRIVATE EVENTS
Offices, conferences, exhibitions, banks, car showrooms, service points, hotels, seminars, children's fun centres, universities.
Since old times people have cherished the tradition of hospitality by offering guests hot and cold drinks. Those who have many visitors every day can benefit from using disposable heat-insulating paper cups.
Heat-insulating paper cups with print can represent company name and company logo, enhanced themes and slogans to promote your business. There are many ways to distribute cups, the most common are: serving customers drinks at the company headquarters or distributing drinks on the street for passers-by. There are also more commercial marketing methods that involve attaching a cup to a product or set that a company offers. The effectiveness of this type of advertising is raised primarily by the manufacturer of thermal insulation paper cups like UNICUP. We are able to provide high quality prints on our thermal paper cups.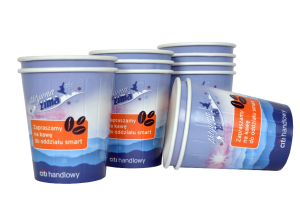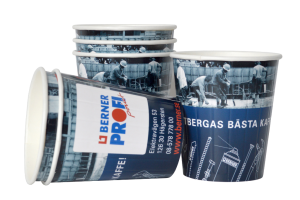 Non-alcoholic and alcoholic beverages, promotion of coffee and tea
The use of printed thermal insulation paper cups for the brand promotion
 Many factors create a brand image. A variety of promotional gifts such as corporate letterhead paper cups, play a very important role in defining its character. Our paper cups can be very useful in the process of establishing new business contacts as well as maintaining the interest and loyalty of existing customers. This is primarily due to the fact that heat insulated paper cups not only meet certain aesthetic and promotional requirements but are also very functional.
Fitness and wellness clubs, beauty parlours, medical centres, spa resorts.
The value of your products can be increased by complimentary services. Offer your guests a hot drink on a cold day or a cold drink on a hot day. By using our two-layer heat-insulating cups with high-quality print you can promote campaigns, or your new products and services.
Your caring approach will be highly appreciated, and the advertising information on the paper cup will sell your products and services. After all, people focused on beauty and visiting your business come to have a hands-on experience of beautiful, joyful and happy life. They look for a contemplative atmosphere and relaxation away from everyday drudgery. At such moments they subconsciously open up to new sensations, and advertising successfully reaches its target.
We offer two-layer heat-insulating paper cups that are ideal for hot and cold drinks.
The printing area on the cup can be used for the logo of your company, to promote an advertising campaign, and to advertise seasonal dishes and other offers. Printing does not entail large expenditures, and 8 to 12 projects can be combined. Because of the fast production process you can use our cups as a high-quality advertising product with no need for other promotional materials.
By selling take away drinks in our cups with marketing information about your cafe, you increase the range of your potential customers. People on the street, in the park or at the seaside see your customers holding appealing beautiful cups and may get interested in your offer and become new clients.
PHOTOS OF OUR CUSTOMERS
Birthdays, meetings, picnics, festivals, weddings, Valentine's Day, New Year, corporate events, exhibitions, concerts.
Create a unique atmosphere for your events. After all, people can easily remember the pleasurable moments, joy and happiness they experience in life.
Using two-layer heat-insulating cups you can give a message to participants of the events and make a festive atmosphere special. The structure of our cups has been designed with a special focus on using the printing area, and the quality of print matches that in glossy magazines. In addition, our cups have an appealing heat- insulating layer so your guests can enjoy hot drinks with no risk of burning hands.
Sports events, advertising matches, advertising teams, photographs of a team on the cup.
Are you linked with the sports sector?
Let's assume your company is a sponsor of a sports team. Our two-layer heat- insulating cups are an excellent advertising medium which you can use successfully to promote your business, products or services during matches gathering large audiences.
Those who are passionate about certain sports, or whose children are keen on sports teams can order cups with the logo of their favourite sports club, photographs of a team, or images capturing memorable moments of sports matches that brought the team success. These disposable cups can be used to lift up and support the fighting spirit of the team.
Coach services, airlines, transport by rail, ferries, cruise ships and ocean liners.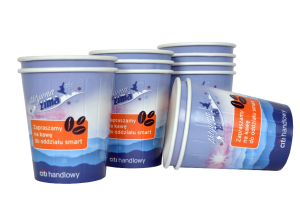 Imagine yourself travelling by train, coach or airplane, and the passenger next to or in front of you sipping something delicious from an appealing cup, enjoying excellent service and pleasurable moments, looking dreamy and watching beautiful landscapes and flowing clouds as they pass by.
You would notice the print on the cup, wouldn't you? Paper cups give you an excellent opportunity to place marketing information about any product or service, and are a great advertising medium. Our cups combine glossy magazine high- quality print with a heat-insulating feature so users can enjoy hot drinks with no risk of burning their hands.
Hotel guests can get additional service and satisfaction. They can use paper cups to prepare tea or coffee in their room. When sightseeing in town or at the coast they can buy a drink and take it with them after they have watched the sunset and spend pleasurable relaxing moments. Every guest will have warm memories of staying at your hotel. People on the street, in the park or at the seaside see your customers holding cups, and may get interested in your offer and become new clients.
Paper cups have been documented in imperial China, where paper was invented by 2nd century BC. Paper cups were known as chih pei and were used for the serving of tea. They were constructed in different sizes and colors, and were adorned with decorative designs. Textual evidence of paper cups appears in a description of the possessions of the Yu family, from the city of Hangzhou.
The modern paper cup was developed in the 20th century. In the early 20th century, it was common to have shared glasses or dippers at water sources such as school faucets or water barrels in trains. This shared use caused public health concerns. One notable investigation into their use was the study by Alvin Davison, biology professor at Lafayette College, published with the sensational title "Death in School Drinking Cups" in Technical World Magazine in August 1908, based on research carried out in Easton, Pennsylvania's public schools. The article was reprinted and distributed by the Massachusetts State Board of Health in November 1909.
Based on these concerns, and as paper goods (especially after the 1908 invention of the Dixie Cup) became cheaply and cleanly available, local bans were passed on the shared-use cup. One of the first railway companies to use disposable paper cups was the Lackawanna Railroad, which began using them in 1909. By 1917, the public glass had disappeared from railway carriages, replaced by paper cups even in jurisdictions where public glasses had yet to be banned.
Paper cups are also employed in hospitals for health reasons. In 1942 the Massachusetts State College found in one study that the cost of using washable glasses, re-used after being sanitized, was 1.6 times the cost of using single-service paper cups.These studies, as well as the reduction in the risk of cross-infection, encouraged the use of paper cups in hospitals.
Dixie cups
"Dixie cup" redirects here. For the type of naval headgear, see Sailor cap.
Dixie Cup is the brand name for a line of disposable paper cups that were first developed in the United States in 1907 by Lawrence Luellen, a lawyer in Boston, Massachusetts, who was concerned about germs being spread by people sharing glasses or dippers at public supplies of drinking water. Luellen developed an ice-cooled water-vending machine with disposable cups, and with another Bostonian, Hugh Moore, embarked on an advertising campaign to educate the public and to market his machine, principally to railroad companies. Professor Davison's study was instrumental in abolishing the public glass and opening the door for the paper cup. Soon, the devices, which would dispense cool water for one cent, became standard equipment on trains.
The Dixie Cup was first called "Health Kup", but from 1919 it was named after a line of dolls made by Alfred Schindler's Dixie Doll Company in New York. Success led the company, which had existed under a variety of names, to call itself the Dixie Cup Corporation and move to a factory in Wilson, Pennsylvania. Atop the factory was a large water tank in the shape of a cup.
In 1957, Dixie merged with the American Can Company. The James River Corporation purchased American Can's paper business in 1982. The assets of James River are now part of Georgia-Pacific, a subsidiary of Koch Industries, the second largest privately owned company in the United States. In 1983, production moved to a modern factory in Forks, Pennsylvania. The original factory in Wilson has sat vacant ever since. The closing of the factory also prompted Conrail to abandon the Easton & Northern railroad branch, of which Dixie Cups was the last major customer.
In 1969, the Dixie Cup logo was created by Saul Bass, a graphic designer known for his motion picture title sequences.